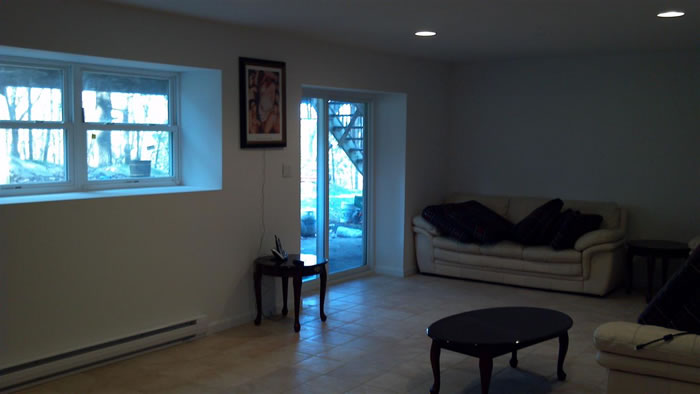 Basement Suites are becoming more and more commonplace in New Jersey homes for a number of reasons.  Firstly and most importantly they offer additional living space for you and your family that a relative, loved one or even a tenant can live in.  This is highly desirable for some families for both the financial security (think monthly rent checks!) and as a way to keep their family closer together.  Secondly, if you already have a basement turning it into a suite is a great way to add onto your living space without building out more on your property, which could already be limited on space.
G Custom Builders specializes in designing and building in basement suites into existing New Jersey homes.  We will assist you in every phase of your suite addition, from drawing up the plans to pulling out all of the local building permits. We will carefully plan and schedule every phase of your project, working directly with you the customer to ensure 100 % customer satisfaction.
With a complete basement suite conversion in your home there is usually very little (if any) exterior construction involved (aside from an exterior entry) or in the case of having a basement be considered living space then you must also have egress windows installed.  If your basement is below grade this can add anywhere from $3000 – $5000+ to the cost of your basement project per basement bedroom.  (don't be scared by that!  We'd need to see your project first)
The inconvenience of adding in a basement suite isn't the most appealing for any homeowner but we'll bend over backwards to make sure you're happy and comfortable during your project.  When we're all done with your new in basement suite, you'll be extremely happy with the value we've added to your home whether you're going to have loved ones living with you or you plan to rent it out it's one of the only remodeling projects that can actually pay for itself!
Basement Suite Construction Services:
Basement Suites
In-Law Suites On Side Of House
Small Cottages
2nd Living Spaces
Why Choose G Custom Builders For Your Basement Suite Project?
When you choose G Custom Builders for your home construction or remodeling project you're partnering with a small team of talented craftsman.  We will be prompt in our communication, we will show up when we say we will and we hold ourselves to very high standards for our work.
Every project we complete for our customers helps us build our base of word-of-mouth referrals.  As a contractor your reputation in the local community is everything and take that commitment seriously.
If you'd like to receive an estimate for your next construction or home remodeling project in Sussex County then give us a call at 973-534-5920 or fill out our contact form and we'll get right back to you.