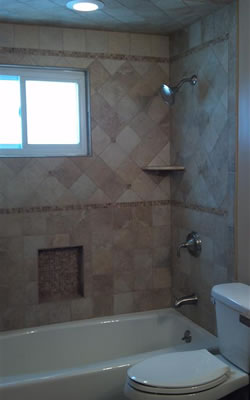 Custom Tile or Stone Shower Construction
We can build you that beautiful, luxurious shower.
Have you ever stayed in a 5 star resort or a really fancy hotel?  If so, then you've probably already experienced showering in a tile or stone shower.  You'll probably agree then, that a staple in any luxurious bathroom is going to be a tile or stone shower.  Both tile and stone generally come in neutral colors and earthy tones that will work perfectly with any existing bathroom decorating scheme.
The appearance of your new shower will give your bathroom a very natural look and will excude an upscale ambience that will really set your bathroom on the same level as those you'd see in a fancy remodeling magazine or a well known T.V. special about home remodeling.
G Custom Builders specializes in designing and building custom tile and/or stone showers into Sussex County homes.  We can go through the entire process with you from the initial planning phases to actually designing what the shower will look like, the tile or stone we'll be using right down to the shower controls and shower head, or shower heads if you really want an awesome showering experience!
Here Are A Few Tile and Stone Shower Ideas
 [envira-gallery id="234″]
Barrier Free Showers – For those who want easy access in and out of their shower a barrier free shower is the way to go.  Tile and stone are the perfect materials to build a barrier free shower with because they are durable and withstand moisture exceptionally well.  Tiles are easy to clean and if care for will look fantastic for many years.  We can build you a beautiful tiled barrier free shower within your home.
Glass Shower Enclosure – If you're after the ultimate luxury look then consider having us enclose your new tile or stone shower with a glass enclosure.  Glass much like tile or stone can work with any existing color or decorating scheme.  One of the downsides to glass is that soap scum and water stains can create a tough cleaning job… This is true.  But once the glass is cleaned it's going to look fantastic again for several months.  We can even order custom glass enclosures etched with special designs and the options can go on.  If you want an extravagant glass shower enclosure, we can do it!
Borders, Pebble in-lays, Shelves, Benches & Built in Niches – These are usually only found in the tile or stone showers built by craftsman because they take a great deal of knowledge and skill to pull off.  G Custom Builders takes pride in the meticulous tile work that we do.  We can seamlessly integrate any of these options into your custom tile shower without the typical mistakes you'd see in a lesser experienced contractors work.
Multiple Shower Heads – Yeah, it's totally real.  Most of us have lived our entire lives never knowing what it felt like to have the truly "perfect" shower.  Until you've tried a shower with multiple shower heads that is.  With the shower controls and technology today it's easy to get the perfect shower with a mixture of the right temperature and just the right amount of pressure with every shower.  We can help you install the latest showering technology with your tile or stone shower.
Digital Shower Controls – Instead of trying to turn the knobs and fiddle around to get the right temperature, pressure and water pattern why not just program it with a digital controller?  Converting your shower into digital shower is an excellent upgrade to consider if you're going to remodel your bathroom.
Do you have an idea for the shower you'd love to see in your home?  Have you seen a beautiful shower in a magazine, or want to replicate that spa like experience you had on your last vacation?  Tell us about it!  G Custom Builders can build you any type of shower you desire.  With your creativity and our construction know-how we can work together to build you the ultimate showering experience.
Why Choose G Custom Builders For Your Tile or Stone Shower Project?
When you choose G Custom Builders for your tile shower project you're partnering with a small team of talented craftsman.  We will be prompt in our communication, we will show up when we say we will and we hold ourselves to very high standards for our work.
Every project we complete for our customers helps us build our base of word-of-mouth referrals.  As a contractor your reputation in the local community is everything and take that commitment seriously.
If you'd like to receive an estimate for your custom tile or stone shower project in Sussex, Morris, or Passaic Counties then give us a call at 973-534-5920 or fill out our contact form and we'll get right back to you.