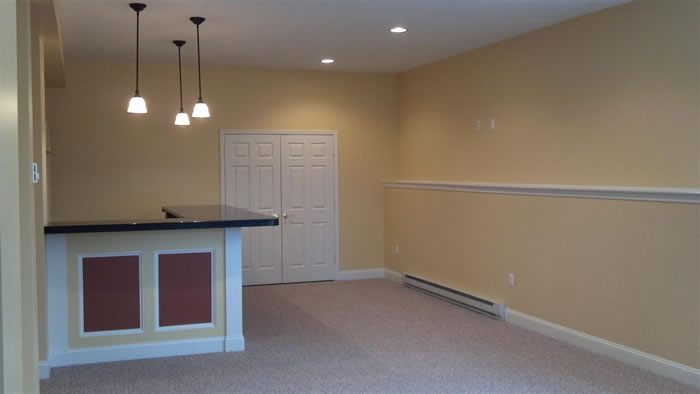 The Coolest New Jersey Home Remodeling Trends For 2016
Modernize Your NJ Home With These Cool and Trendy Remodeling Projects
As spring is now in full swing and summer is right around the corner, home improvement projects are starting to begin all across the state right now.
Although some people only remodel their homes in preparation for selling, many others are choosing to remodel now, and to enjoy the benefits of their updated home themselves. Whether you're thinking of making a major renovation to your New Jersey home, or just updating one or two key elements, here are a few of the coolest home remodeling trends for 2016.
Incorporating Metal Into Your Home Remodel
Once only used as an accent or in industrial-style homes, metal is now becoming a focal feature in the average American home. With so many textures and colors available, adding a metal element to your home is a great choice. While traditionally only seen on knobs and fixtures, homeowners are now adding metal backsplashes, metal roofing, metal siding, pressed metal feature walls, and even metal clad ceilings.
Metal doesn't have to be everywhere to add a real design punch, and it fits in surprisingly well in most homes and goes with many different decor styles.
Vibrant Colors Are Still In
Vibrant colors are in for 2016 and homes are brighter than ever! With modern, high-quality paint available in every imaginable color, it's easy to liven up any room in your home. Rich hues bring energy into a room, and they can be paired with bright patterns for a really memorable effect. A splash of paint and a few lively accents may be all that is needed to bring this trend to your home.
Remodeling For An Outdoor Lifestyle
Homeowners continue to see the outside space of their home as a continuation on their indoor living space. More people are spending time out of doors, and this means making their outdoor living space as comfortable as possible.
Freestanding fire pits and built-in fireplaces encourage visitors to gather and celebrate special occasions in your yard. Landscaping and garden features help to complete an outdoor oasis which will have your friends talking and the neighbors green with envy!
Another popular option for outdoor home improvements is the addition of a new deck.  With wood obviously being a popular choice because of it's affordability another up and coming contender that has been popular this year is composite decking materials.  Composite decking is made with recycled materials, lasts much longer, doesn't require painting and is considered an environmentally friendly upgrade.
Eco-Friendly and Energy-Efficient Home Upgrades
The eco-friendly and energy efficient trend has been here for a few years already but 2016 is no exception.  There has been a major trend this year toward eco-friendly and energy-efficient building supplies and materials.
Homeowners are considering their impact upon the planet when they choose materials that are sourced nearby and manufactured at low-impact facilities. With energy costs on the rise, choosing energy-efficient upgrades for your home means less money spent on cooling and heating. Buyers are also savvy about these features, and homes with eco-friendly and energy-efficient remodeling are top sellers and high on a buyers list of important upgrades that need to be completed before they'll buy a home.
Finishing Basements
The deep, dark, dingy basements are gone! Now, homeowners are reclaiming this space and transforming it into something usable. Remodeling an existing basement (or even an attic!), is much more cost-effective than adding an addition to your home and the results are much the same.  You are effectively doubling your living space!
*Note:  In order for your basement to actually be considered "living space" you must have Egress (exit) windows in every bedroom.  Without this, the newly remodeled space can still be enjoyed but cannot be considered additional living space for selling purposes.
Renovated basements make for an excellent office, "man cave", or even a guest or rental suite. With a number of ways to brighten an underground space (remember those bright colors we mentioned earlier?), basement retreats will add usable space and value to your home.
Adding Technology Into Your Home Remodel
Home automation continues to be a growing trend, and there has been a lot of innovation in this field in 2016.
Companies continue to develop computers that can control every little feature of your home. From lights and music, to heat and home security, there is a device out there that can do it. Until recently, these fancy gizmos have been priced out of most people's reach, but rapid advances in production and new technology has made them less expensive and easier for contractors to install.
More and more homeowners are enjoying the convenience of controlling their front door's deadbolt with their phone, or checking on the security camera while away at work or controlling the temperature and water flow of their shower digitally, yes we said digitally!  Don't overlook the addition of technology into your remodel.
Bigger, Brighter More Spacious Kitchens
The kitchen is and always has been the heart of the home, and, as in past years, continues to be a major focus for remodeling trends. This year's popular kitchens are bright and open, with plenty of counter space. Eat-in kitchens, or at least one that is open to the dining area, are most desirable. Families are spending more time together, and the cook does not want to be closed off from all the action.
Kitchens are also going more modern, with simple countertops, glossy finishes and minimalist designs. If you are renovating your kitchen soon, think clean, bright and spacious.
Beautiful, Luxurious Bathrooms
Bathrooms are also a major focus for many renovations. Currently, homeowners are choosing to install larger showers, often with two or more showerheads for a more luxurious showering experience. Bathtubs are making a comeback too, with beautiful stand-alone tubs serving as a showpiece for the bathroom. With more bathing options becoming ideal, bathrooms are getting bigger too.
Oh, and don't forget one of the most popular bathroom trends as of late which is heated tile flooring.  This simple upgrade is easily done when installing a new floor, and is surprisingly affordable if you have a smaller bathroom.
Remodeling Your Home For Accessibility
Remodeling the home to be more accessible for yourself or a loved one has become a very common remodeling project in recent years.  As the boomers continue to age, the need for more accessible facilities for people with mobility problems is on the rise.
Widening doorways for wheelchair access, constructing wheel chair ramps, barrier free or roll-in showers and home automation are some of the improvements people are making.
Why Choose G Custom Builders For Your Home Remodeling Project?
When you choose G Custom Builders for your home construction or remodeling project you're partnering with a small team of talented craftsman.  We will be prompt in our communication, we will show up when we say we will and we hold ourselves to very high standards for our work.
Every project we complete for our customers helps us build our base of word-of-mouth referrals.  As a contractor your reputation in the local community is everything and take that commitment seriously.
If you'd like to receive an estimate for your next construction or home remodeling project in Sussex, Passaic or Morris County NJ then give us a call at 973-534-5920 or fill out our contact form and we'll get right back to you.