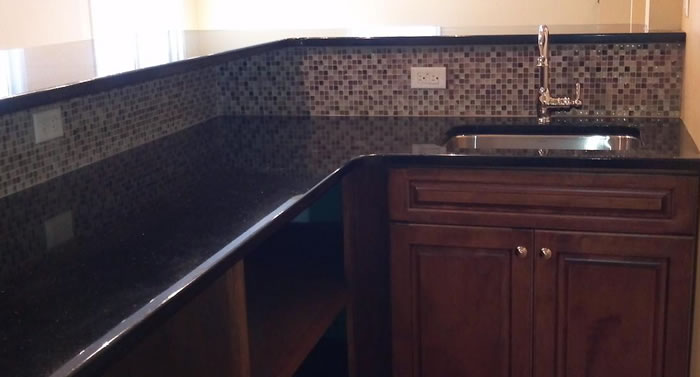 Having New Kitchen Countertops Installed In Your New Jersey Home
New Countertops Are An Affordable Way To Give Your Kitchen A Beautiful Facelift!
Whether you are having a kitchen installed into a brand new home, or renovating an existing kitchen, there are a number of factors to consider before you proceed. Have you considered functionality, aesthetics, and resale value when designing your kitchen? Did you know that the type of countertop you have installed can have a major effect on the outcome of your kitchen renovation? With so many materials, colors and finishes available, choosing this central piece of your updated kitchen can be overwhelming.
Our countertop installation experts will help you to pick the perfect countertop for your taste, budget and lifestyle.
What Material Should You Choose For Your Kitchen Countertops?
Certain countertop materials have become increasingly popular in recent years, but this doesn't mean that there is only one perfect countertop for your kitchen. Perhaps you already have a material in mind, now you need to find out if it comes in the color you prefer, and if it is priced within your budget. The various options will all drastically alter how your renovated kitchen looks, and with so many excellent choices available, we can help you to find the ideal countertop for your home.
Corian Countertops
As one of the easiest countertops to maintain, Corian (also known as Solid Surfacing) countertops are a very popular choice. Primarily made from polyester and acrylic, Corian countertops are nonporous and virtually maintenance-free, with no sealing or special cleaning required. Should your new countertop become damaged, any scratches and burns are easy to sand out. Corian's seamless installation means that there are no cracks or seams to catch debris. Finally, Corian is an excellent option if you wish to experiment with vibrant colors or patterns, as you are not limited by the appearance of a natural material such as granite or other stone.
Granite Countertops
Currently the most popular countertop option for a luxurious kitchen remodel, granite brings the incomparable beauty of natural stone to your kitchen. Each piece of granite is unique, with exquisite colors and patterns to choose from. These countertops stand up very well to heat, splashes, knife nicks, and other wear and tear that a countertop is exposed to.
Two Granite Countertop finishes are available:  a polished, shiny finish; and a soft, matte honing finish.
Granite countertops will need to be resealed periodically to keep them looking their best and to prevent staining.  If you are limited by a strict budget then granite countertops may prove to be a little more expensive than other options but if you find a contractor that maintains good working relationships with some local suppliers there are often good deals on granite countertops to be had.
One downside to a granite countertop that should be mentioned is that they are quite heavy.  If you are switching from a laminate countertop to a granite countertop you may need to reinforce the framing that will support it.  Your contractor installing the new countertops will be able to tell you if this is required.
Laminate Countertops
Laminate countertops are probably the most familiar kitchen countertop, but thanks to modern finishes and styles, laminate does not have to be dull!  Laminate is versatile, dependable, and much less expensive than other countertops available. Made from paper, resin and particle board, laminate countertops can be made to mimic butcher block, stone, and other pricer countertop options. These countertops are lightweight and easy to maintain.
Concrete Countertops
Concrete countertops are probably the most versatile option. They can be cast in any shape, and tinted almost any shade you wish. Many homeowners choose to add unique inlays such as stones, glass fragments, or shells.
Although it's not as heat resistant as some other countertop options, concrete stands up very well to heavy use. Like granite, concrete countertops require periodic resealing to prevent staining. It is also very heavy, and requires a sturdy cabinet base.
How Long Does A New Kitchen Countertop Installation Take?
Your time is valuable and we respect that. After you have decided on your countertop materials and we have taken all the necessary measurements and created the template we can source your materials.  Waiting on materials (especially items like granite or other stone) can often take longer than the actual labor and installation time.
Some homeowners, after seeing the quality of our work opt to replace other countertops in their home as well, this could include a bathroom, or a laundry room, even a downstairs bar for that matter.  These extras if you've asked us to do them will add to the installation time as well.
What Does New Countertop Installation Cost?
Certainly price is always a factor when remodeling your kitchen. Our experts will work with you to find the perfect countertop for your needs and budget.  The final cost will ultimately depend on your choice of materials, the size of the countertop we are replacing and any other special considerations that need to be made.
It's tough to give a ball park cost on new countertops without actually seeing the location of the install.  For materials we can tell you that countertops materials are estimate by the square foot.  This can vary from as low as $10 per square foot for laminates all the way up to $150-$200+ for luxury materials such as granite or marble.
Why Choose G Custom Builders To Install New Countertops in Your New Jersey Home?
We Are Owner Operated, Fair Pricing, Reliable and High Quality Craftsmanship.
When you choose G Custom Builders for your home construction or remodeling project you're partnering with a small team of talented craftsman.  We will be prompt in our communication, we will show up when we say we will and we hold ourselves to very high standards for our work.
Every project we complete for our customers helps us build our base of word-of-mouth referrals.  As a contractor your reputation in the local community is everything and take that commitment seriously.
If you'd like to receive an estimate for your next construction or home remodeling project in Sussex, Passaic or Morris County NJ then give us a call at 973-534-5920 or fill out our contact form and we'll get right back to you.